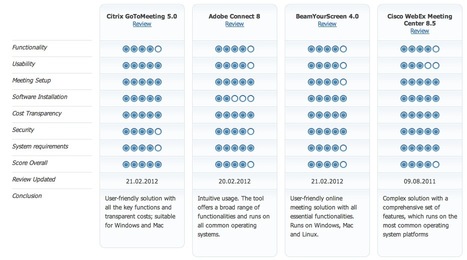 Robin Good: The Online Meeting Tools Review is a web-based service which allows you to compare side-by-side over 35 web conferencing and webinar tools.
The free version allows you to access individual reviews and to compare up to four tools on a set of basic criteria with not much detail.
The Pro version is a downloadable PDF that includes comparison of whatever number of tools you have selected across 80 different features.
Price starts at $19 for in-depth comparison of 4 tools. Each additional tool added to the report is $4 more.

P.S.: I have looked at some of the reviews and I have found them not to be as detailed and insightful as I would have expected. The data is there, but in some cases key advantages of a certain tool or technology over another are not highlighted at all.
Well organized idea for an in-demand need, but information quality is not as good as it should be. 6/10
Evaluation method: http://webconferencing-test.com/en/evaluation-guide
More info: http://webconferencing-test.com/en/webconference-home